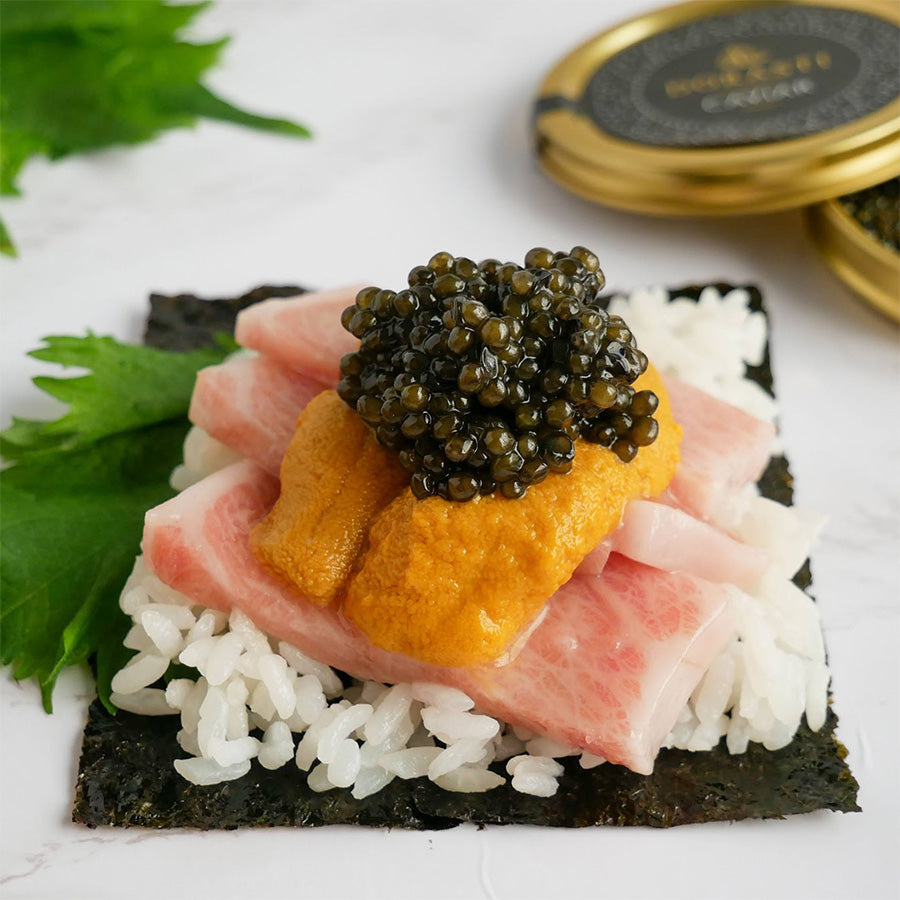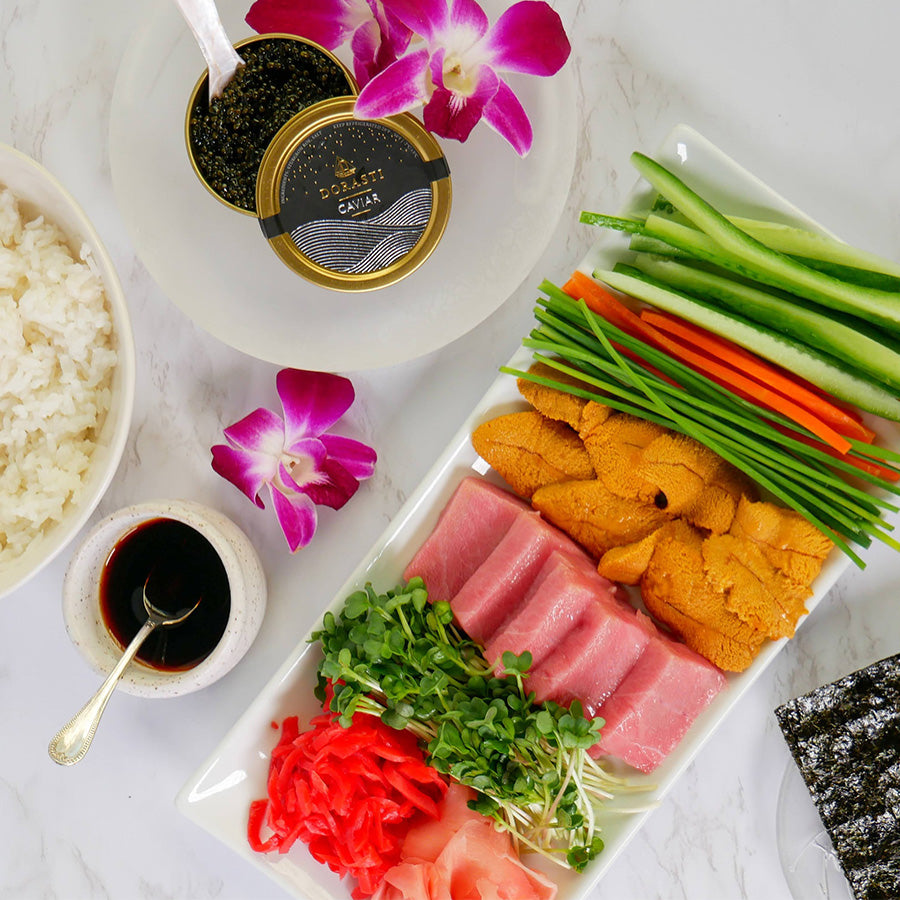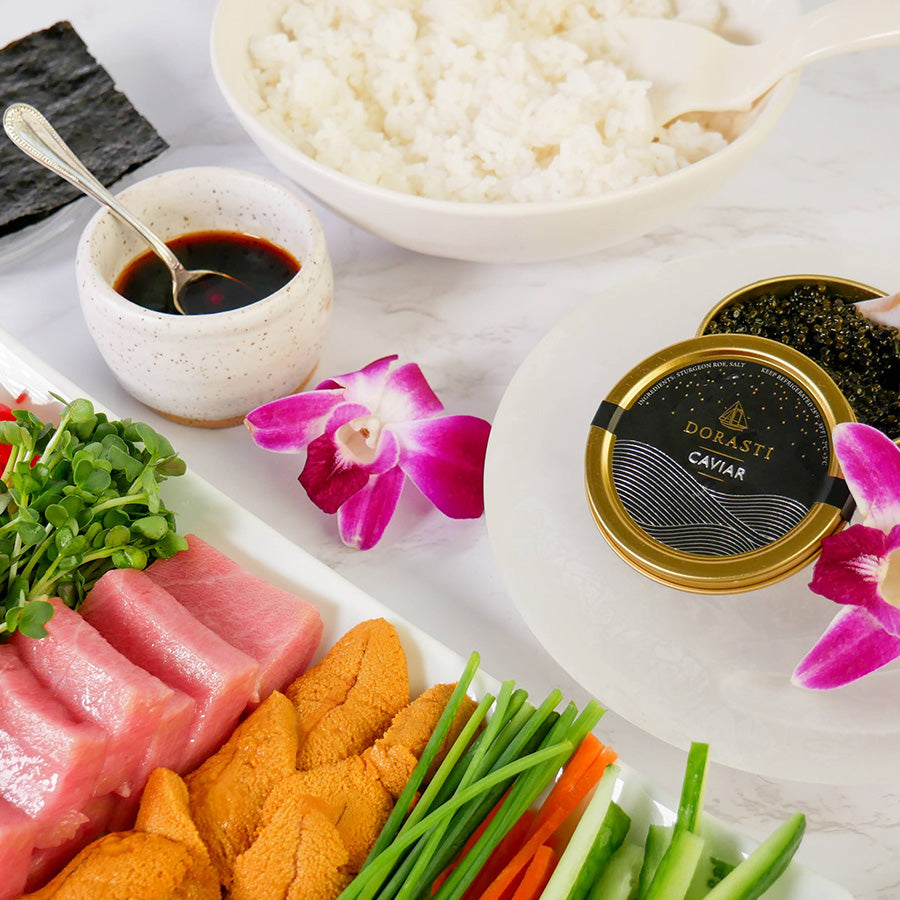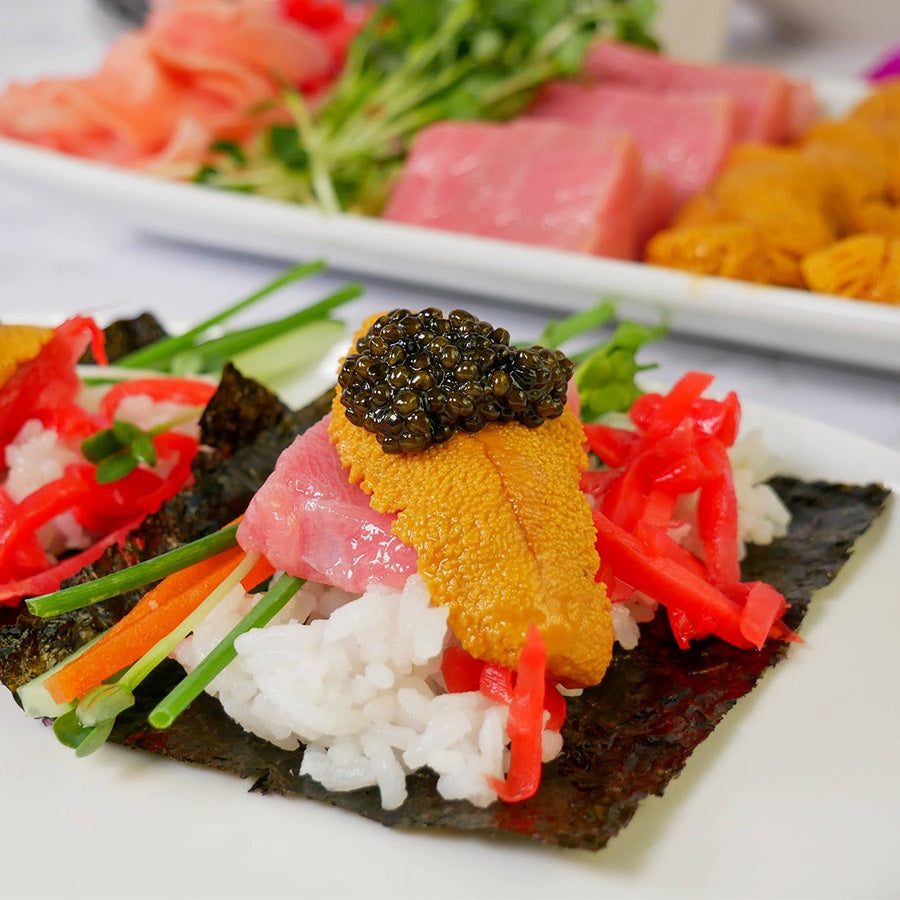 Description
Free Shipping
Care & Packaging
We've got all the goods gathered in one place for a meal that is bound to amaze, from our in-house proprietary methods of processing caviar to premium grade Santa Barbara Uni and Otoro that is second to none. Here's what you can expect:  
Dorasti Omakase Premium

 

2 tray of Santa Barbara Uni (100grams), 

1lb of Otoro

3.5 oz of Chef's Choice Kaluga Hybrid

Temaki seaweed sheets

Dorasti Omakase Luxe

 

2 Trays of Santa Barbara Uni (200 grams) 

2 lbs. of Otoro

2 x 3.5 oz chef's choice Kaluga Hybrid

Temaki seaweed sheets
Santa Barbara Sea Urchin (Uni)  The Dorasti Sea Urchin is grade XA. The highest grade received in Sea Urchin and used by Michelin-starred chefs across the country. This particular Uni from the coast of southern California is widely known for its clean and "sweet" after taste.

Each tray of Uni consists of 100 grams in weight (3.5 ounces) and comes with 12-15 Sea Urchin roes.
Caviar Selection:  Chef's Choice Kaluga Hybrid 
Our Chef's Choice Hybrid Kaluga (acipenser schrencki x huso daricus) is famous for its firm texture, fantastic pop, and consistent olive color. Extremely clean and buttery in taste, this is excellent caviar for any occasion. Our mission is only to offer the highest quality caviar packed fresh per order. We are proud to offer only sustainably sourced caviars that are exclusively in the 5-10% of top production in every harvest. Dorasti Caviar is adequately aged with salt and without preservatives. Every tin is packed fresh per order and with 100% traceability of the sourced caviar. 
Otoro :
Delicate in texture, this umami otoro melts in one's mouth! The added Caviar enhances the experience by balancing the meaty flavor with the perfect amount of salt it needs, which is why Caviar and Otoro are like yin and yang together! It's no wonder these two combos are trendy in premier sushi restaurants! Gift this Combo kit to yourself or a loved one for that special occasion and experience the ultimate umami from the comfort of your home! 
The Otoro is shipped super frozen in temperature-controlled packaging with next-day free shipping and is to be enjoyed as-is and does not require cooking or special preparation. For the best experience, please follow the thawing instructions on the product page.
Have more questions? Please email us at info@dorasti.com, and we will reply to your email as soon as possible or within 24 hours. 
For our online retail customers, we currently provide Free Shipping within the United States, except or Hawaii, Alaska, Puerto Rico, and U.S Virgin Islands. Clients from Hawaii and Alaska may contact us directly at info@dorasti.com for shipping inquiries. We may be able to accommodate a shipping solution for these clients based on a case by case basis.
Our mission is to ensure our customers receive the freshest and highest in quality products without compromise. We thoroughly examine each product's quality standards before shipping to our clients' destinations. Our sealed and curated boxes are designed to keep the items fresh during the time in transit. Packages are marked with red or orange "Perishable" signs to ensure recipients can identify and refrigerate their items as soon as they are received.
FARM-TO-TABLE
Our sturgeons are all bred sustainability in the most humane conditions and water quality.
SUSTAINABLE
Our founder and father was one of the pioneers and visionaries of his time who advocated for sustainability
QUALITY
We hand-select the best of breed sturgeons sourced from the the cleanest waters and fed with the highest quality feed.
Dorasti Kitchen
Easy to follow recipes put together by distinguished, decorated, and talented chefs across the country!
Browse the kitchen