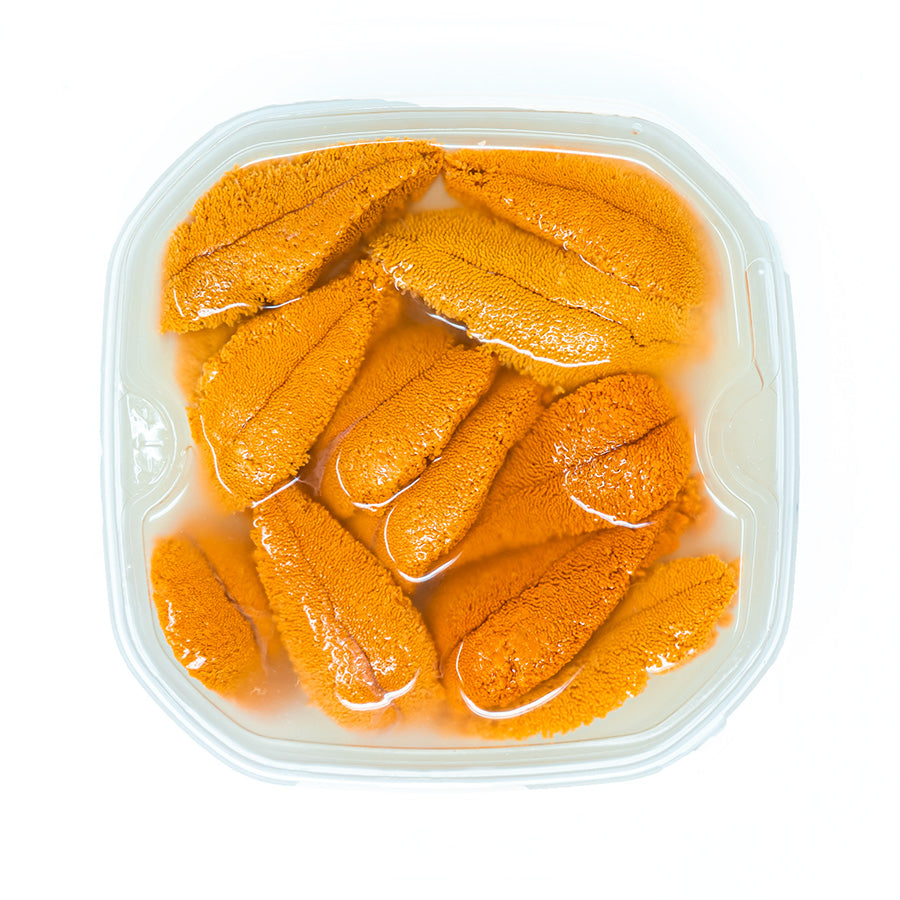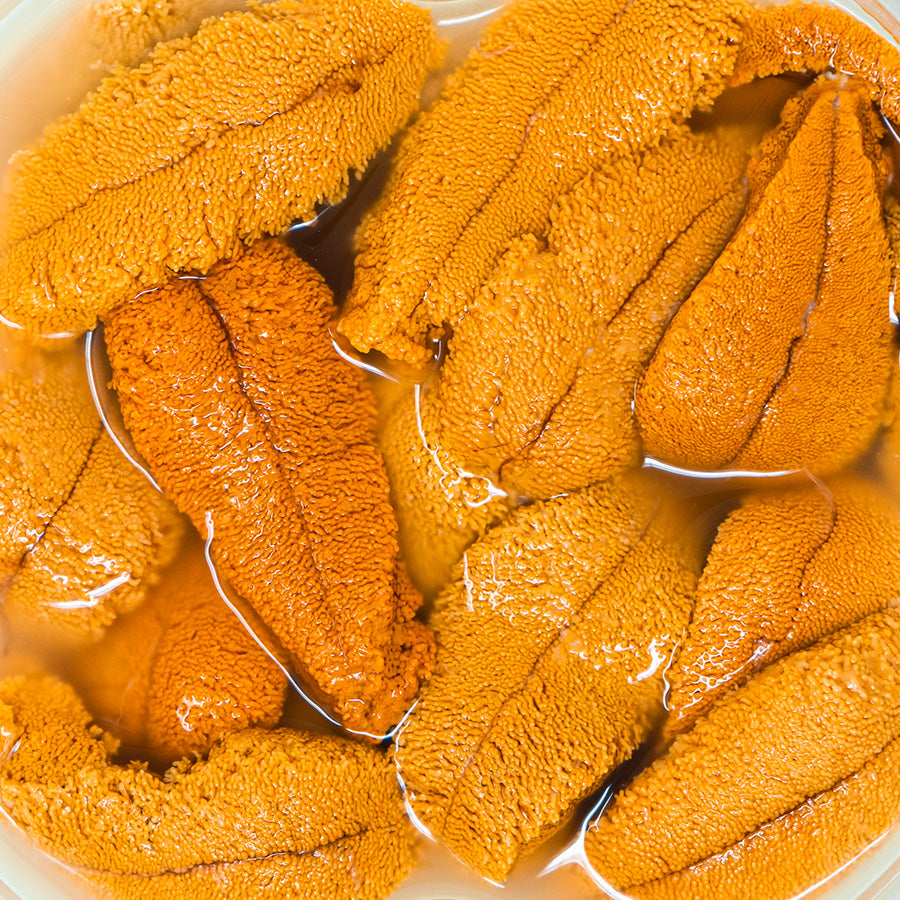 Fresh Saltwater Uni (Premium Santa Barbara Sea Urchin Roe)
Description
Free Shipping
Care & Packaging
Organic and without any preservatives, this Fresh Saltwater (Ensui) Uni is from the Coast of Santa Barbara, California. Packed fresh daily, this AA-graded Fresh Uni comes in liquid saltwater packs, shipped with temperature-controlled iced and packaging with next-day delivery. 
Santa Barbara Premium Uni is renowned for its exceptional taste and quality. This delicacy is hand-harvested from the pristine waters off the coast of Santa Barbara, California, and is known for its sweet, rich flavor and firm texture.
One of the reasons why Santa Barbara Premium Uni is considered the best is due to the location of the harvest. The waters off the coast of Santa Barbara are known for their cleanliness and lack of pollution, which contributes to the pure, natural taste of the sea urchin. Additionally, the cold currents that flow through the area help to keep the sea urchin fresh and flavorful.

Learn More About Santa Barbara Premium Uni HERE!
Santa Barbara Premium Uni is hand-harvested by divers, which ensures that only the highest quality sea urchin is selected for consumption. This method of harvest also helps to protect the sea urchin population and preserve the ocean ecosystem.

When it comes to taste and texture, Santa Barbara Premium Uni is in a league of its own. The roe, or eggs, of the sea urchin are renowned for their sweet, buttery flavor and firm texture. This makes it a perfect ingredient for sushi, sashimi, and other Japanese dishes. It can also be eaten as a standalone delicacy, either raw or lightly cooked.

Santa Barbara Premium Uni is not only delicious but also a good source of nutrients. It is high in protein, omega-3 fatty acids, and vitamins A, B12, and E. This makes it a healthy addition to any diet. Eating Santa Barbara Premium Uni not only satisfies your taste buds but also contributes to a healthy diet. Add it to your next sushi or sashimi dish, or try it as a standalone delicacy, it will be an experience that you will not forget! Come Dorasti with us!



  PRODUCT DETAILS & INSTRUCTIONS
Please click HERE to view the instructions on how to care for this product when arrived. 

 
Have more questions? Please email us at contact@dorasti.com , and we will reply to your email as soon as possible or within 24 hours. 

 

For our online retail customers, we currently provide Free Shipping within the United States, except or Hawaii, Alaska, Puerto Rico, and U.S Virgin Islands. Clients from Hawaii and Alaska may contact us directly at info@dorasti.com for shipping inquiries. We may be able to accommodate a shipping solution for these clients based on a case by case basis.
Our mission is to ensure our customers receive the freshest and highest in quality products without compromise. We thoroughly examine each product's quality standards before shipping to our clients' destinations. Our sealed and curated boxes are designed to keep the items fresh during the time in transit. Packages are marked with red or orange "Perishable" signs to ensure recipients can identify and refrigerate their items as soon as they are received.
Fresh Saltwater Uni (Premium Santa Barbara Sea Urchin Roe)
FARM-TO-TABLE
Our sturgeons are all bred sustainability in the most humane conditions and water quality.
SUSTAINABLE
Our founder and father was one of the pioneers and visionaries of his time who advocated for sustainability
QUALITY
We hand-select the best of breed sturgeons sourced from the the cleanest waters and fed with the highest quality feed.
Dorasti Kitchen
Easy to follow recipes put together by distinguished, decorated, and talented chefs across the country!
Browse the kitchen